Speakers David Israelite, Michelle Lewis, and Ross Golan unpack recent appeal to rate increase for songwriters and publishers.
SONA, the NMPA – National Music Publishers Assn., along with And The Writer Is, co-hosted an L.A. Songwriter Town Hall to a capacity crowd May 13th to discuss Spotify's efforts to appeal the court-ruled rate increase for songwriters. Spotify, along with Amazon, Google, and Pandora were invited to speak, however none of the services showed up to face the songwriters and publishers who packed the room at Live House in Hollywood. Apple Music is the only company who declined to be part of the appeal and believes the ruling should stand.
Digital Services Providers (DSPs) Spotify, Amazon, Google, and Pandora filed an appeal to try to stop the Copyright Royalty Board's (CRB) decision to give songwriters and publishers a 44% raise over a five-year period, 2018-2022, on mechanical royalties, only the second meaningful increase in songwriter royalties in 110 years. The CRB made this ruling in early 2018, but it has yet to be implemented. The fact that the appeal comes after DSPs worked with songwriters, publishers, and lawmakers to craft and pass the Music Modernization Act (MMA) has dealt a serious blow to any goodwill gained between the groups during the MMA process.
SONA's Co-Executive Director Michelle Lewis moderated. Joining her were NMPA President & CEO David Israelite and Ross Golan of the popular And The Writer Is podcast. Michelle began by updating the audience on where we've been over the last year in regard to the MMA and how it has brought songwriters, publishers, artists, and others together stating: "It's kind of funny that this thing that decimated the value of our work and put our profession at risk is the same thing that could save it. This has become a tool for advocacy, amplifying our voices, and for organizing."
David Israelite stated, "We worked with digital companies to do a lot of things that went into the Music Modernization Act. It was the first copyright legislation in two generations, and it was a moment in time where I think a lot of people believed it was the start of a new relationship where we were going to be able to work with digital providers as business partners… but what we are learning is unfortunately, that moment in time is not going to change the fundamental dynamic that while we are business partners much of what they are doing is hostile to your interests."
Mr. Israelite then took a point by point look at the statement Spotify released to the public when they filed the appeal and easily dismantled each statement to expose the misleading information. One of the most blatant fabrications is regarding what and how songwriters should be paid. Mr. Israelite presented the math behind their statement showing that songwriters would actually make less than before the CRB ruling in 2018. It is important to note that Spotify had the opportunity during the original CRB hearings to present a case and what they proposed was to cut the rates paid to songwriters. As Mr. Israelite said, "What they are in essence trying to do now is change the outcome of the original ruling."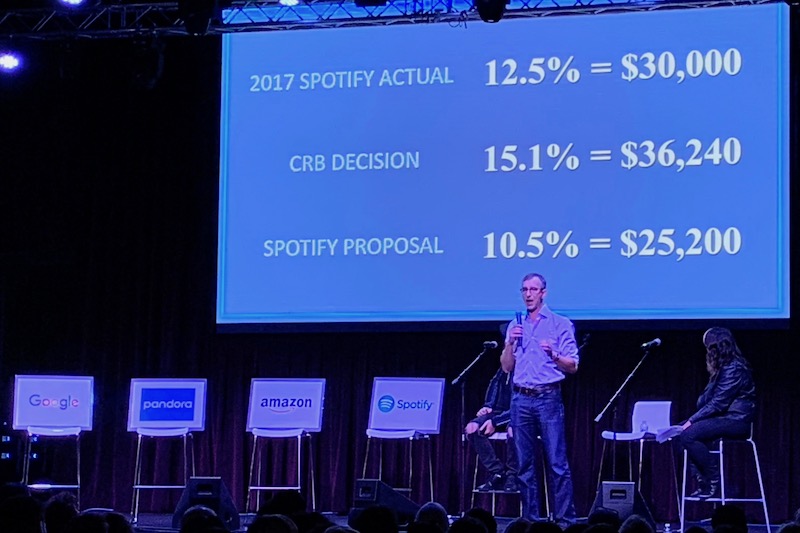 Ross Golan gave an impassioned statement regarding the past, present, and future of the needs and income of songwriters. "With one tweet, one post, one graphic, one phone call, one email at a time that (we) took control of its collective future."
The evening was rounded it out by a question and answer session. The entire event was recorded to help reach an even wider audience. Click here view and share the full video of the "Ask Spotify Why" Town Hall event.
Let's Chat!
Questions? Get in touch with us by filling out the contact form below. We'll get back to you as soon as we can.