Hi there!
So much happened today, I honestly couldn't keep up!
SENATOR CO-SPONSOR UPDATE:
Yesterday, we had Senators Portman (OH) and King (ME) agree to co-sponsor
Then earlier today (Tuesday), Senator Cardin (MD) came on board.
And finally, thanks to the amazing work of Shelly Peiken, Adam Gorgoni and Kevin Cronin, Senator Duckworth is our newest co-sponsor! (see the letter from Kevin Cronin attached) ***Please tweet and post thank you's from the music community***
From David Israelite: "I met with Rubio office this morning. He will make decision in next 2 days. Emilio Estefan is placing a call to Senator Rubio today, but we could use other Florida constituents to weigh in ASAP." ***Do your thing #MusicArmy!!! ***
And let's stay on Senator Murphy (CT) as well. That would get us to "Two-Thirds By Thursday" 🙂
As of today we're at 64 co-sponsors (65 with Senator Hatch)
ADVOCACY UPDATE:
First of all… BAM!!! 🙂
VARIETY ARTICLE: SONGWRITERS BLAST SENATOR WITH 'WHY DO YOU HATE MUSIC?' BILLBOARDS
PLUS TWEETS AND CALLS FROM OREGONIAN ARTISTS AND SONGWRITERS: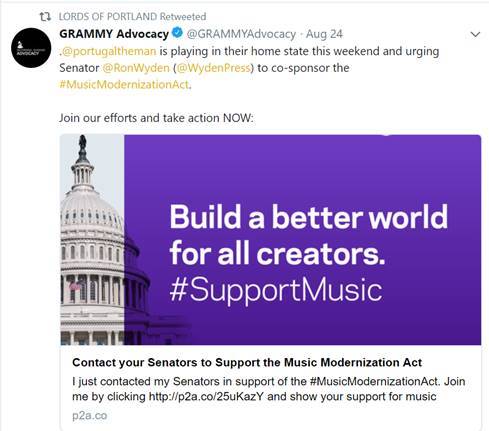 And then…THIS HAPPENED!
YOU GUYS!!!!
HUGE shout out to Mitch and Joel and their team for working some kind of miracle around this.
As of yesterday, the Senator Wyden hurdle seemed impossible.
Regarding Gardner, the word is we're close to resolution on his issue as well. Here is a great op-ed by David I in response to SIRIUS's lame one. Music Business Worldwide Article: The Trouble With SIRIUSXM's Opposition To The Music Modernization Act
Also, attaching a letter from Folk Alliance to their US Members in support of the MMA.
Bottom line: Creators are going to get this across the finish line!!! We can't celebrate yet, but wow… we are so close.
THANK YOU!! KEEP FIGHTING!
Let's Chat!
Questions? Get in touch with us by filling out the contact form below. We'll get back to you as soon as we can.