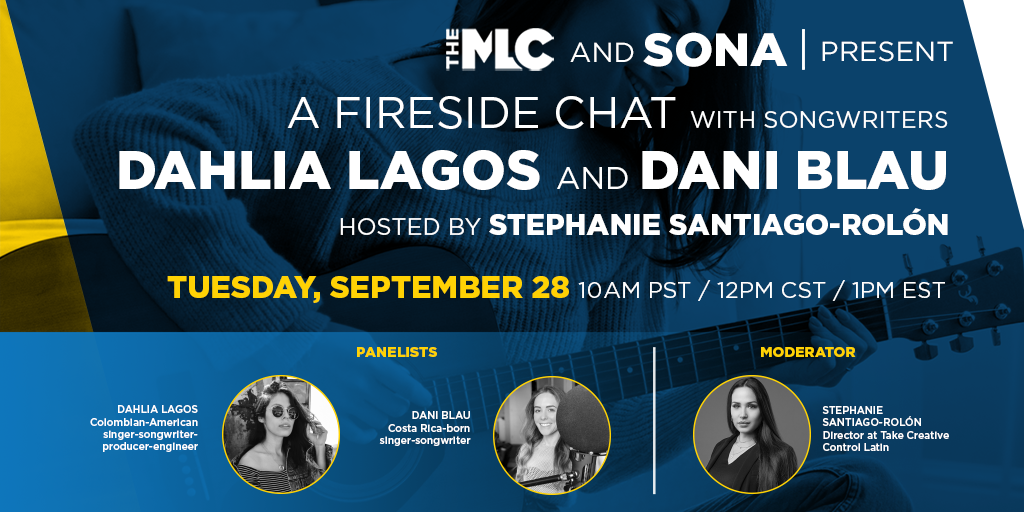 SONA is partnering with the MLC for a Fireside Chat with Songwriters and SONA members Dahlia Lagos and Dani Blau on Tuesday, September 28th at 10am PT on Zoom.
The session will be hosted by Stephanie Santiago-Rolón, Director of Take Creative Control [Latin], who will lead a conversation with two multi-faceted Latina music creators – Colombian-American singer-songwriter-producer-engineer Dahlia Lagos and Costa Rica-born singer-songwriter Dani Blau – and take questions from participants. More information on The MLC and SONA present a Fireside Chat with Songwriters Dahlia Lagos and Dani Blau and a registration link can be found here.
This event marks the beginning of The MLC's "El MLC en Español" initiative, designed to engage both current and prospective Spanish-speaking Members of The MLC, and officially kick off the availability of Spanish-language resources to those individuals and groups.