FIRST – AN MMA UPDATE FROM SENATOR HATCH'S OFFICE:
We are currently at 48 co-sponsors after Senators Moran (KS) and Scott (SC), both Republicans, co-sponsored last week.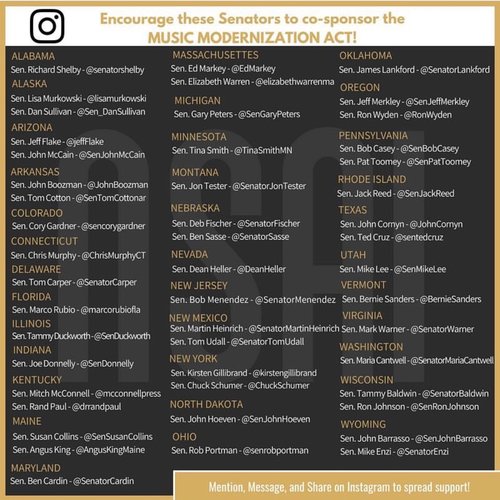 SENATORS CLOSE TO SPONSORING:
Maine – Senator Susan Collins – (202) 224 – 2523
Nebraska – Senator Deb Fischer (202) 224 – 6551
Alaska – Senator Lisa Murkowski (202) 224 – 6665
Minnesota – Sen. Tina Smith (202) 224 – 5641
THERE ARE STILL REMAINING ISSUES:
1) Blackstone – language getting hammered out, waiting for sign off. Still no Senator Cruz
2) Senator Wyden Bill – RIAA waiting to hear on a compromise proposal
3) Senator Gardener and SIRIUS – Liberty Media – wants Hatch office to talk to Sirius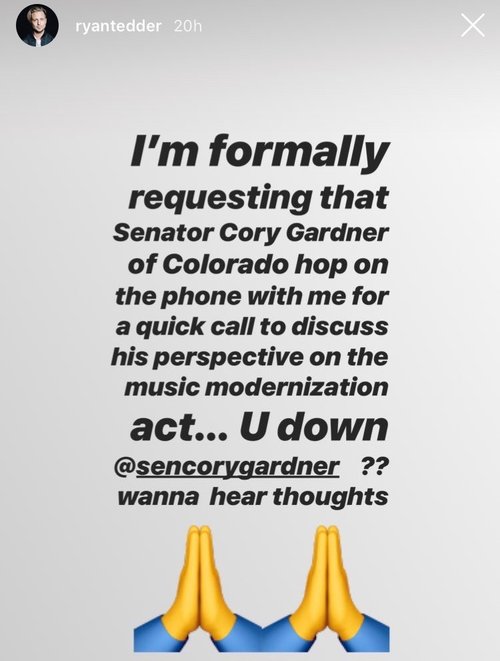 PUBLICITY
Speaking of Senator Gardner, check out the screenshot of what Ryan Tedder did!
Desmond Child posted on the Latin Songwriter Hall of Fame website, headquartered in Miami and targeting Senator Cruz, check that out here.
SONA Exec Committee member Jack Kugell got some amazing acts to spread the word in support of the CLASSICS Act!
Let's Chat!
Questions? Get in touch with us by filling out the contact form below. We'll get back to you as soon as we can.