Hello Music Army.
Well… the first big news to report is that the Music Modernization Act got "hotlined" today.
"HOTLINE"
A strategic procedure carried out by Leadership and their Cloakrooms. There are a few situations in which Senate Leadership might hotline a bill– the most common is that they want to move it quickly. In that case a member of Leadership asks their Cloakroom to leave an outgoing message for the Senate that the measure will be called up to pass without a vote (by Unanimous Consent). If a single Senator objects to the bill they can phone the Cloakroom clerk, register their objection, and the bill is stopped. Sometimes the Majority leader doesn't really expect a bill to pass by Unanimous Consent but will hotline it anyway– like a trial balloon to measure a bill's support."
This was the important procedural step I alluded to on Friday. It's happening. Right now. The tree is being shaken. And despite SIRIUS's most serious efforts, nothing has fallen out. Yet.
For more info, please read – https://www.billboard.com/articles/business/8475435/music-modernization-act-doesnt-pass-soon-what-happens-next
Also, we got three new co-sponsors (some big ones!)
Senator Chuck Schumer – 77
Senator Jack Reed – 78
and Senator Elizabeth Warren – 79 – Once again, thanks to Massachusetts's own Kay Hanley and her mom Ellen. 🙂
Not often you get a tweet like this, right?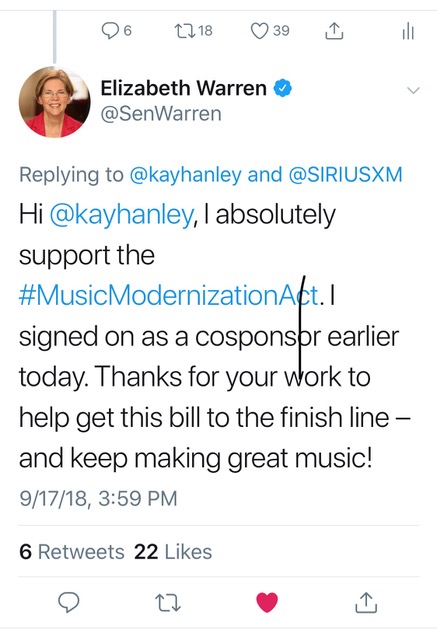 To push back at SIRIUS's continued bad-faith efforts, Ross published his letter to SIRIUS and Liberty Media executives with a list of nearly 200 artists, songwriters and music executives signing on, including Paul McCartney, Pink and Max Martin.
More names are being added every five minutes, so will be updating the list of co-signees regularly. If you have additions please let me or Ross know.
Please read and share this amazing op-ed by Neil Diamond in the LA Times about the MMA! And thank you Katie Diamond & Dina!!
http://www.latimes.com/opinion/op-ed/la-oe-diamond-music-modernization-act-20180917-story.html
It is make or break time for the MMA right now. If we can get through this final hurdle, we really have a shot at getting the bill passed and getting our much-needed reform. Please continue to post and tweet about SIRIUS's crappy behavior. We'll keep adding new shareable slides on our socials, but I've attached some usable ones below.

Finally, much thanks to the MVP of the weekend – Ryan Tedder – you win the Paul Williams "Warrior for the Light" Award for your amazing efforts with the legislators and bringing artists on-board. You should run for office!
With all my love and gratitude,
Let's Chat!
Questions? Get in touch with us by filling out the contact form below. We'll get back to you as soon as we can.