From SONA's Executive Director Michelle Lewis:
Gearing up for a big week, starting tomorrow… when the #MusicArmy billboards go up near Senator Wyden's home office in Portland. 🙂
Continuing with the goal of Two-Thirds By Thursday… (only 5 more Senators to reach 66!)
And finally, amplifying the message to Senator McConnell that WE NEED A VOTE!!! (see Lauren's note below)
There will be plenty of slides, pictures and letters to senators to share throughout the week!
NOTES FROM THE FIELD
From Songwriter & Podcaster Ross Golan:
"Hey guys!
The billboards get launched in Portland on Monday. Salem to follow the next week. Portugal The Man begins their shows this weekend. If Wyden doesn't know about the Music Army… He's about to."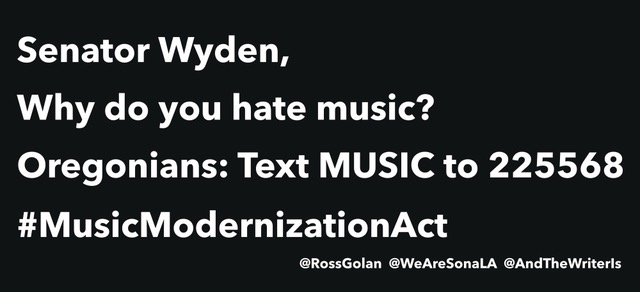 "Hi All —
We placed an OpEd from songwriter Ashley Gorley in the Kentucky Courier-Journal titled "A bill to help songwriters get paid needs support of McConnell, Senate." Click here to check it out.
ASCAP also promoting on socials – would be great if you could help amplify online.
INSTAGRAM – Please like or comment
TWITTER – Please like or retweet
FACEBOOK – Please like, comment or share
"Great quotes by Steven Tyler on MMA" Check them out by clicking here.
"Here another where he mention's Doug Collins" Check them out by clicking here.
PLEASE READ, SHARE AND KEEP GOING!
More to come…
~Songwriter's of North America, The Music Army.
Let's Chat!
Questions? Get in touch with us by filling out the contact form below. We'll get back to you as soon as we can.