PART 1: 10:46AM UPDATE
Some amazing news to report… we have TWO new Senate co-sponsors on the Music Modernization Act as of this morning.
Senator Peters (MI) – 58 – special thank you to Darrell Brown 🙂
Senator Markey (MA) – 59 – special thank you Dorchester resident and Markey supporter, Ellen Hanley, Kay Hanley's mom. 🙂
Plus Senator Hatch, which brings us to 60 CO-SPONSORS!!!!
Please feel free to thank our newest co-sponsors on social media for doing their part to help American music creators.
Meanwhile, if we get to 66 co-sponsors we'll have 2/3's of the Senate on board and all the momentum we need to request a vote by unanimous consent soon after the holiday weekend.
Let's keep going! We have momentum on our side and Senators Stabenow (MI) and Murphy (CT) are very close to co-sponsoring. Keep asking.
AMAZING WORK EVERYONE!!! #MusicArmy is on 🔥🔥🔥
PART 2: 8:39 PM UPDATE
As you know, we had 2 additional co-sponsors sign on this morning, plus Senator Hoeven (NV), later in the day, giving us the magic number of 60… 61 if you include Senator Hatch. While all of the stakeholder lobbyists and representatives in DC, along with our MMA Senate sponsors and their staffs, have been working their asses off to garner support on the Hill for a long time now, they've told me repeatedly that the personal outreach from YOU – particularly in-state songwriters and artists with direct connections to these senators – has been immeasurably important in converting the "almost's" to "yes's."
Let's name some names, shall we? The big THANK YOU's for the heavy lifting done by:
Kara DioGuardi on Senators Collins and Shaheen (and she WILL get Senator Warren, I know it!)
Darrell Brown with Senator Peters
Adam Dorn, Adam Gorgoni and Busbee on Senator Murkowski (the letter from Quincy Jones was instrumental in getting her support)
Kay Hanley (and her mom!) with Senator Markey in Massachusetts!
Just as important as the co-sponsors, the Senators with "issues" – Gardner and Wyden – have been bravely taken on and pushed back at by songwriters and artists in Colorado and Oregon, led by Ross Golan and Ryan Tedder.
And thank you to Billy Mann and Jack Kugell for easing Senator Casey toward a more amenable position as well.
On top of that – the power of all of you on this list… tweeting, posting, emailing and calling as we push toward the full Senate vote – has been everything.
Thank you, thank you, thank you.
SOCIAL MEDIA UPDATE:
Let's bask in this moment with some thank you's for now. Here's a thank you slide.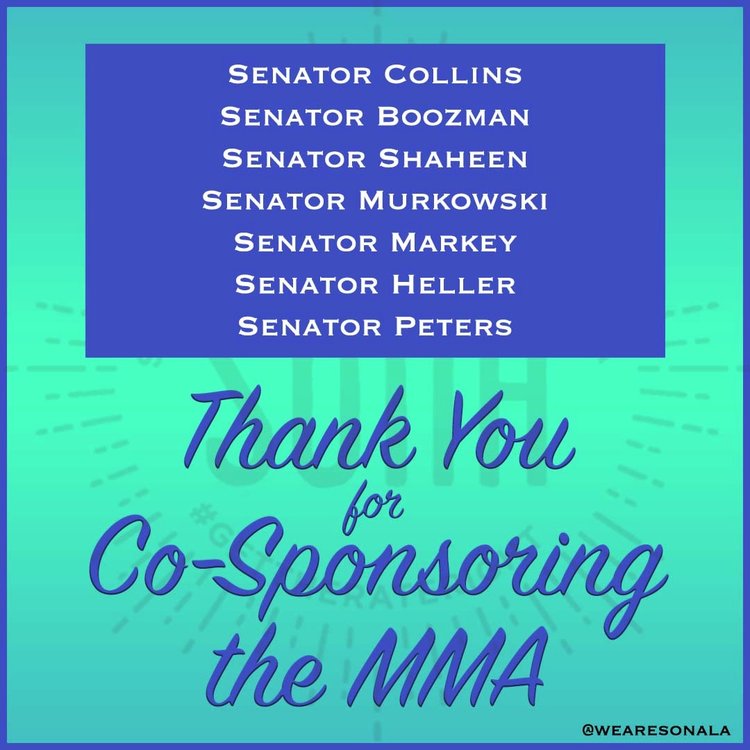 David Israelite suggested that if we can get to 66 co-sponsors by the holiday weekend, we'll have 2/3's of the Senate heading into September and well-positioned for a vote by "unanimous consent." Not a problem 🙂
Here's the list of remaining senators who have yet to cosponsor…
Don't forget to @ known writers and artists from each state and use the hashtags #SenatePassTheMMA and #MusicModernizationAct in the caption.
The #MusicArmy continues to crush it. More to come…
Let's Chat!
Questions? Get in touch with us by filling out the contact form below. We'll get back to you as soon as we can.