Still reeling from how we got from here:
Variety Article: Songwriters Blast Senator With 'Why Do You Hate Music?' Billboards
To here:
Music Modernization Act May Clear Hurdle After Reaching 'Handshake Deal' With Senator Wyden: Exclusive
In less than 24 hours…
But we've been asked by Coons's office – who is directly negotiating with Wyden's office – to stop talking to press about any agreements until language is agreed-upon. This is still in the beginning stages and somewhat volatile.
Of course, the billboards stay up until an agreement is reached.
Second, we've been asked to focus on these six senators who have yet to co-sponsor:
Heller (R-NV)
Cornyn (R-TX)
Rubio (R-FL)
Murphy (D-CT)
Warren (D-MA)
Cantwell (D-WA)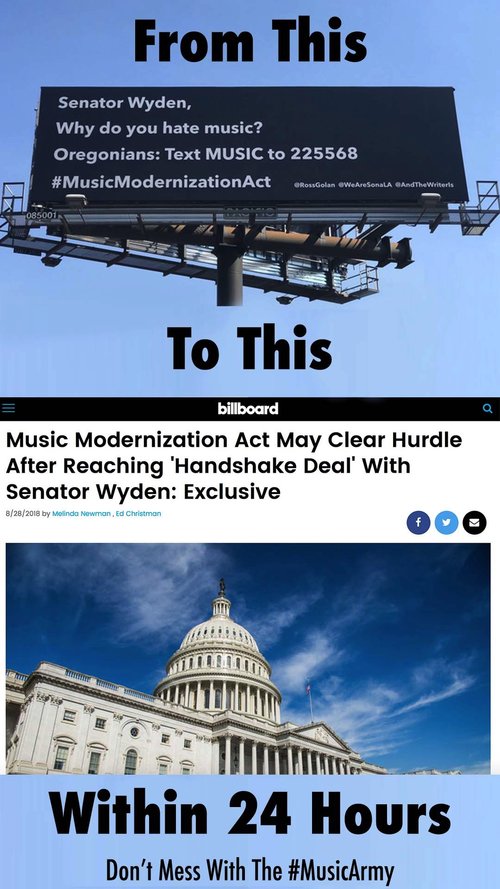 This morning we're launching a full-scale onslaught at Senator Rubio with Pitbull, Emelio Estefan, Rudy Perez and Desmond Child leading the way!
FLORIDA constituents – Let Senator Rubio hear about the MMA!
We also have many Massachusetts folks on here – Ask Senator Warren to please sign on!
Attaching some updated slides for you to use!
***TWO-THIRDS BY THURSDAY!!!***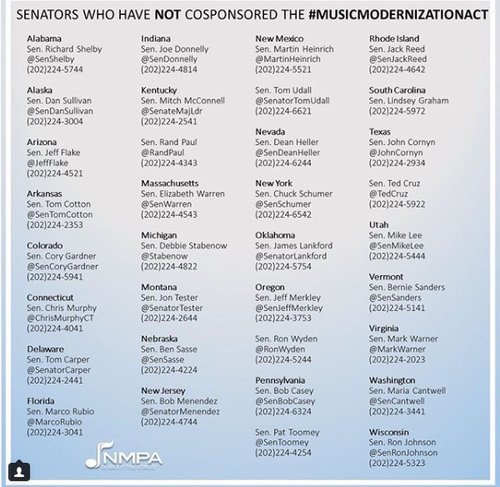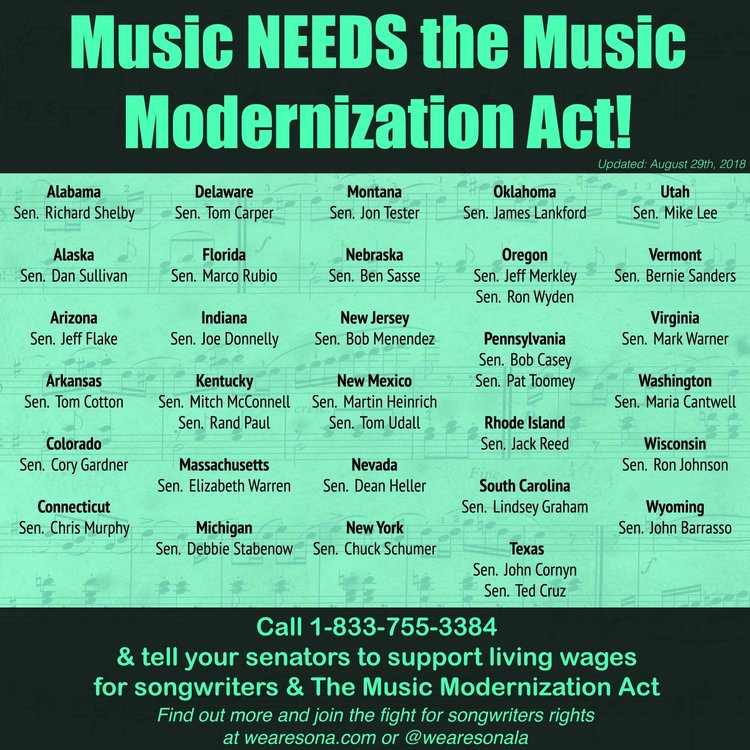 Instagram allows you to tag 10 usernames in each comment. Copy & paste these groups into the comments anytime you see this graphic posted to Instagram!
@senjohnbarrasso @ronjohnsonwi @maria.cantwell_ @senatorwarner @berniesanders @senmikelee @johncornyn @sentedcruz @lindseygrahamsc @senjackreed
@senpattoomey @senbobcasey @ronwyden @senjeffmerkley @senatorlankford @chuckschumer @deanheller @senatortomudall @senatormartinheinrich @bobmenendeznj
@bensasse @senatorjontester @djstabenow @senwarren @randpaul @senatemajldr @donnellyforindiana @marcorubiofla @senatorcarper @chrismurphyct
@sencorygardner @tomcottonar @jeffflake @sen_dansullivan @senatorshelby
Let's Chat!
Questions? Get in touch with us by filling out the contact form below. We'll get back to you as soon as we can.